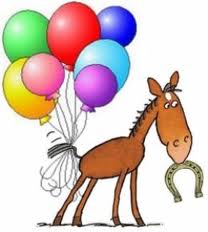 Petasfield Stables birthday parties for all ages and abilities.
Ages range from 4 years and upwards, with a minimum of 9 children and a maximum of 12.
Our parties follow the same format but can be tailored to the age of the members the party. Each party is 2 hrs long and consists of the following:
- 45 mins grooming, plaiting and spending time with the ponies
- 15 mins for a treasure hunt around the yard
- 1 hr for riding and horseshoe decorating (Due to us only being a small riding school children are taken in twos or threes to ride whilst the others decorate and eat their party food)
Cost of the party is £14 per child.
Please note we only run our parties between the months of May to September due to not having any indoor facilities. If weather is particularly bad on the day you book your party we will endeavour to rearrange.
Every precaution is taken to ensure safety around the horses and ponies but it must be understood that they are unpredictable live animals. Riding is a risk sport and it is impossible to eliminate all risk.
Suitable clothing and footwear is essential - children in unsuitable footwear will be unable to be around the ponies.
Please email crissie@petasfieldstables.com to book your party.